Latest News
As men age, their sperm contains more disease-causing mutations
Andrew Wilkie, Nuffield professor of pathology at the University of Oxford in the UK, and colleagues describe their findings in a paper published in the Proceedings of the National Academy of Sciences.
Depression and anxiety may reduce chances of IVF pregnancy
Depression and anxiety, and not necessarily the use of antidepressant medication, are associated with lower pregnancy and live birth rates following in vitro fertilisation, according to a large register study from Karolinska Institutet in Sweden. The findings are published in the journal Fertility & Sterility and can be of interest to clinicians treating infertility and for women with depression or anxiety planning to undergo fertility treatment.
Lifestyle factors play role in IVF success
West Australian couples wanting to increase their chances of falling pregnant through in vitro fertilisation (IVF) should consider quitting smoking, drink alcohol moderately and have a diet rich in fruit and vegetables, according to a recent study.
Experts say pregnant women, new moms should have depression screenings
They are considered bundles of joy. Still, from novices with newborns to veteran pros of motherhood, all pregnant women are susceptible to the not-so-joyous issues associated with postpartum depression, such as anxiety and sadness, which are unhealthy for both baby and mother.
High alcohol intake associated with slightly decreased female fertility
Women who drink 14 or more servings of alcohol a week are slightly more likely to have reduced fertility, suggests a new study. In developed countries, up to 24% of couples experience infertility, defined as time to pregnancy of 12 months or more.
Folic acid fortified food linked to decline in congenital heart defects
Food fortified with folic acid, a B vitamin required in human diets for numerous biological functions, was associated with reduced rates of congenital heart defects, according to new research in the American Heart Association's journal Circulation.

Dr Anil Pinto and Dr Julian Escobar, Once again were voted by other physicians as The Best Infertility Specialist by D Magazine.
Dr Escobar interviewed by Telemundo…

101 Physician Leaders to Know in the ASC Industry – Dr. Anil Pinto
"A personal touch is what sets Vivere – Dallas apart from other clinics. I make sure that I'm always approachable to my patients so they feel comfortable while undergoing treatment processes that are often tough both emotionally and physically,"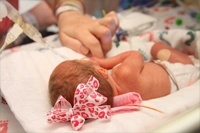 Doctor: Texas quintuplets doing 'remarkably well'
By JAMIE STENGLE, Associated Press
Updated 8:43 pm, Thursday, March 20, 2014
Dr. Pinto on the possible causes for the Texas quintuplets
Dr. Anil Pinto, a fertility specialist at Baylor who did not treat Seals, said one of the medications Seals took increases risk of multiples by around 6 to 7 percent.
He said the other medication she was taking increases the risk of multiples by around 15 percent, but that 95 percent of those multiples are twins.
Dr. Pinto on KLTV 7 talking about fertility preservation before cancer treatment. Less than 20% of oncologists inform female patients about fertility preservation before cancer treatment.
ETX doctor wants cancer patients to know about fertility preservation options
Posted: Dec 30, 2013 6:16 PM EST
By Shaley Sanders – bio | email
Copyright 2013 KLTV. All rights reserved.
Dr. Anil Pinto on KLTV 7 Discussing Egg Donation
More young women donating eggs, but do they know the risks?
Posted: Nov 07, 2013 5:38 PM EST
By Shaley Sanders – bio | email
Copyright 2013 KLTV. All rights reserved.
Published on Jul 12, 2013 By Dr. Anil Pinto
ReproMed Fertility's Dr. Anil Pinto explains a special process for perspective parents that are worried about passing along a genetic disorder to their children. It is called Pre-Implantation Genetic Diagnosis or PGD. During the IVF process a small cell sample is taken with no harm to the embryo. That cell sample is checked for any genetic anomaly, this allows the healthest embryos to be implanted making it highly unlikey to be affected by the genetic disorder. Fertility Preservation for Cancer patients so their dream of a family is maintained dispite their diagnosis.
Published on May 21, 2013 By Dr. Anil Pinto
Discussion from top experts about the latest in assistive reproduction techniques including oocyte preservation or egg freezing and pre implantation egg screening. Recent developments